Vote :
4 votes for Favourite Player Tabletop
Show Booths
170 times used in 97 DJ Booths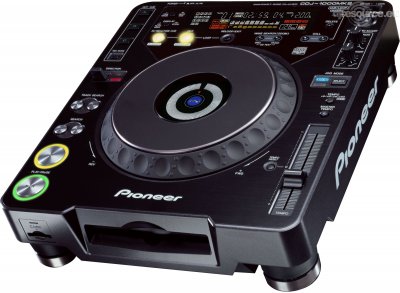 OK we understand you don't like ads (so don't we) but,


Please consider supporting us by disabling your Ad Blocker.


Or become a Gold Member, they don't see ads.
The Pioneer CDJ-1000MK2 is a modernized version of the CDJ-1000 with a bunch of upgrades. The CDJ1000MK2 is recognizable on the silver ring around the Jog Wheel and comes with a 16MB SD card for Cue/Memory Point storage also the Jog Dial is redesigned for smoother and more accurate control.
Predecessor : Pioneer CDJ-1000
Successor : Pioneer CDJ-1000MK3
Are looking for the differences between Pioneer's CDJ series ??
Check out : CDJ Comparisson DJ Topic.
Features

DJ Compact Disc CD Player


3 Hot Cue/Loops


Waveform Display


MMC Card Cue/Loop Memory for up to 5000 CDs(16mb) or 10.000 CDs(>16mb) (100 Cue and Loop Points each)


Digital Output works also on DJ features


206mm Jog Dial for Pitch Bend,Track- and Frame Search, Scratching and Cue Point setting


Vinyl Mode : When Activated, the pressure sensitive top of the Jog Dial activates Scratch


On Jog Display


Reverse Play lever control


Pitch Range : ±6, 10, 16, 100%


Pitch Accuracy : 6% scale 0.02%, 10, 16% scale 0.05%, 100% scale 0.5%


Tempo Reset button

Loop In/Realtime Cue, Loop Out, Loop Out Adjust and Reloop/Exit


Master Tempo, locks in the music's pitch even when the tempo changes


Auto Cue, cues at the first detection of audio in the track


Slot-in CD Loading


Oil-dampened floating CD Assy Suspension


Faderstart, Relay Play


100mm Pitch Fader


Fader Start, Relay Play


Playing Address, a light bar provides a graphic indication of elapsed playing time


Cue Point Sampler Playback
Specifications

Disc Format : CD, CD-R, CD-RW


Output : Line(RCA), Digital(RCA)


Connections : Fader Start(mini-jack)


Frequency Response : 4Hz - 20kHz


Distortion (THD) : 0.006 % (JEITA)


Signal to Noise Ratio : 115 dB


Power Supply : 220-240 VAC, 50/60Hz


Power Consumption : 21W


Dimensions (WxDxH) : 320 x 370 x 105mm


Weight : 4.2 kg
Do you like the Pioneer CDJ-1000MK2 ??
DJResource / Pioneer © 2020
There are 9 Comments

boomer
wrote on
08-08-2004
@ 07:39
why is this deck not as popular?? can u play any k bitrate file for example standard cd is 192kps but could u play say 228 or above or is it just the standard 192kps cd for the pioneers

Lead
wrote on
17-04-2005
@ 22:46
This is probably the most popular Pioneer CDJ at this moment.
Pioneer has only 1 deck that plays MP3 at this moment and that is the
Pioneer DMP-555
(discontinued 2004). The DMP plays various MP3 formats so CBR and VBR
will not be a problem. The range of bitrate that you give will not be a
problem for the DMP to play, but no other Pioneer CDJ's (or cmx's) play
MP3.
Check this
to read the discussion in our forums.
[update]
For MP3 :
Pioneer CDJ-200

sebastiaan
wrote on
07-06-2005
@ 15:45
de beste

Sebas
wrote on
28-08-2005
@ 14:39
pioneer has now the CDJ 200, that plays mp3 files

dion
wrote on
13-02-2006
@ 10:59
het is en blijft een mooi apparaat

dennislouwen
wrote on
05-05-2006
@ 21:20
weet iemand hoe je de single play mode uitzet. leuk als je gewoon een mix cdtje wil luisteren! ??

the-melody
wrote on
06-10-2006
@ 21:15
Autocue afzetten mss?


DJTruth
wrote on
31-05-2009
@ 16:48
@ Dennislouwen,

Je moet de autocue button ingedrukt houden.
De autocue verdwijnt dan in het scherm
Create your FREE ACCOUNT now !
Using an account on DJResource has a lot of advantages such as:
Adding Content, getting Notifications, Like content, Downloading and Uploading Images and much more.
Sign Up
Create your account to get involved with the Community