Submitted by
Lead

on 07-04-2008 @ 00:19
Vote :
3 votes for Favourite Controllers MIDI
Show Booths
13 times used in 13 DJ Booths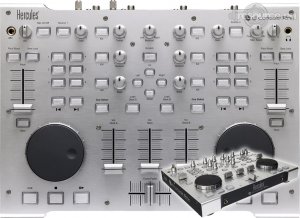 OK we understand you don't like ads (so don't we) but,


Please consider supporting us by disabling your Ad Blocker.


Or become a Gold Member, they don't see ads.
The Hercules DJ Console Rmx has features include a solid metal casing, broad surface, well-designed, accessible buttons and knobs, precise and comprehensive controls, a built-in audio interface with 4 inputs & 4 outputs. Get ready to see how the DJ Console Rmx is the most comprehensive digital dual mixing deck in its category!


Mobility and stability for production and live performances
The Hercules DJ Console Rmx has been designed to enable mobile DJs as well as club & studio DJs to mix digital music. This "nomadic" device simply connects to the USB port of a PC or Mac® laptop. Broad enough in size to allow DJs to mix with unrivalled ease and precision, it is also compact enough to follow users to any event - its measurements (35 x 25 cm) are equivalent to those of a laptop computer.

For live mixing and seamless integration with the DJ's professional environment, the DJ Console Rmx features a solid metal casing and non-slip pads guaranteeing perfect stability.

Adding to its stability, the device boasts flawless drivers thanks to the competence of the company's Canadian R&D division and to the expertise acquired by the team over 20 years of experience in computer-assisted audio processing.

Designed for precise, swift mixing
The Hercules DJ Console RMX offers DJs precision and speed in all their moves, thanks to 2 ultra-precise jog wheels for moving within tracks and for scratching, 12 rotary switches, 46 push-buttons, 6 faders - including pitch faders with a center detent - plus an innovative and convenient general volume fader. The roomy layout of the controls allows DJs to perfect fumble-free mixes. Indeed, the controls are designed for quick and intuitive use; DJs will find their marks quickly, allowing them to focus their full attention and ability to the music and the dance
floor.

The Hercules DJ Console Rmx enables DJs to mix the music files stored on their PC or Mac® in the following formats: MP3, AIFF, WAV, WMA, OGG & CD Audio, as well as the iTunes® library.
Features

4 inputs


4 audio outputs
- Maximum sound over 4 mono ¼ in. jack outputs, outputting +4dBu for PA equipment,
- Audio output levels at -10dBv over 4 RCA outputs, for connecting consumer devices


Simple integration to the DJ's equipment by means of 2 stereo analog inputs


phono/line-level selector on each input,


Microphone (with talk-over feature) and headset (for preview feature) connectors


Dedicated software for optimum digital DJing control : VirtualDJ® 5 DJC Edition


The Hercules Rmx is a MIDI controller and compatible with other MIDI-controlled software


Compatible with standard DJing digital music libraries

Introduced by Hercules at the NAMM Show in Annaheim, California, USA, January 17, 2008
Do you like the Hercules DJ CONSOLE RMX ??
DJResource / Hercules © 2020
There are 2 Comments

carlosa
wrote on
18-05-2009
@ 01:18
weggegooid geld...heb hem getest bij een vriend....wel aardig geluidskwaliteit...maar die knoppen...soms reageren ze en soms niet...en die jog heb je ook weinig aan...althans aan de scratchfunctie dan...

DVDM
wrote on
04-02-2010
@ 19:13
hangt aardig af van je instellingen en settings van je pc,.
mijn RMX heeft na een tijd pielen behoorlijk gedraaid op mijn systeem, vond de geluidskwaliteit sterk, knoppen reageren nagenoeg allemaal goed ( enige was wel dat de potmeters voor de gain wel eens bleven 'haken'maar na een paar keer draaien is dit gedurende de hele set ook verholpen).
?virtual dj is daarin niet de beste software die je kunt krijgen maar al met al kan je er aardig mee uit de voeten. moet ook zeggen dat ik met veel plezier hierop heb gedraaid om de basis mixvaardigheden aan te leren ?( beatmatchen hoort daar dus NIET bij?
)
gebruik de console het beste alleen als console, hang er geen timecode apparaten aan tenzij je vermindering van je geluidskwaliteit wilt.?
al met al voor de prijs degelijk apparaat, met name door de omvang en redelijk vriendelijk gebruiksgemak ( na flink pielen moet je ermee uit de voeten kunnen ), bouwkwaliteit is sterk, voelt lekker zwaar aan en is mooi om te zien.
leuk om mee te beginnen of om te ontdekken of het DJ gebeuren wat voor je is

Create your FREE ACCOUNT now !
Using an account on DJResource has a lot of advantages such as:
Adding Content, getting Notifications, Like content, Downloading and Uploading Images and much more.
Sign Up
Create your account to get involved with the Community