Submitted by
Berbo

on 04-04-2008 @ 22:25

Vote :
Nobody votes this as Favourite yet.
Equipment not yet in use by any of our members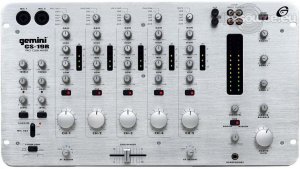 OK we understand you don't like ads (so don't we) but,


Please consider supporting us by disabling your Ad Blocker.


Or become a Gold Member, they don't see ads.
Rotary Faders for Smooth Blending
5 Channels & Master With Individual LED VU Meters
Bass, Mid, Treble With 32dB Cut Features, & Gain for Every Channel
4 phono / 8 Line / 3 Mic Inputs
Individual EQ Controls & Talkover on Mic 1 & Mic 2 (Level, Bass &, Treble)
Mic 3 Integrated Within Channel 5 Controls
3 Balanced Dual Microphone Inputs (XLR or 1/4&quot

3 Additional Microphone Gain Controls on Back Panel
3 Levels for Master Level Attenuation
Master Stereo/Mono Mode
Push-Button Illuminated Cueing
Cue Program & Level Rotary Control
Illuminated Cue Booth Assign Switch
4 Outputs: Master, Zone 1, Zone 2, & Booth
1 Balanced Main Output (XLR) & 1 RCA Output
Balanced Zone 1 & Zone 2 Output
Rec Output for Recording
Ground Lift Switch
Dual Voltage Switch
Auxiliary Input Located on Top Panel
1/4" FX Send/Return Loop Located on Back Panel
Additional RCA Loop Input/Output With Switch on Top panel
Gold 1/4", RCA, & Ground Screw Connectors for Better Conductivity
5 Channel Assignable PRO RAIL-GLIDE Crossfader
Illuminated Crossfader Curve Switch
INPUTS

Phono: 4.5mV
47Kohm Mic 1, 2, 3: 2.5mV, 2Kohm, Balanced
Line: 150 mV 27Kohm
Aux: 150 mV 27 Kohm
OUTPUTS
Master/Zone 1, 2 (Balanced/Unbalanced): 0 dB 2V, 400ohm
Booth(Unbalanced): 0dB, 1V, 400ohm
Max: 20V Peak to Peak
Rec: 150mV 5Kohm
Infrasonic Filter: 15Hz, 18dB/Octave
GENERAL
Bass(Mic1,2): ± 12dB
Treble (Mic 1, 2): ± 12dB
Gain (Mic 1, 2, 3): 0 to -40dB
Low (Channels 1-5) :+ 12dB/- 32 dB
Mid (Channels 1-5): + 12dB/- 32 dB
High (Channels 1-5 ): + 12dB/- 32 dB
Gain (Channels 1-5): 0 to -30dB
Master Output Attenuation: 0dB, -6dB, -12dB
Frequency Response: 20Hz - 20KHz +/- 2dB
THD: (0.02)
S/N Ratio: Better than 80dB
Talkover Attenuation: 16dB
Power Source: 115/230V 50/60Hz 20W
Dimensions: 483 x 267 x 120mm
Weight: 3.4 kg
Do you like the Gemini CS-19R ??
DJResource / Gemini © 2020
Create your FREE ACCOUNT now !
Using an account on DJResource has a lot of advantages such as:
Adding Content, getting Notifications, Like content, Downloading and Uploading Images and much more.
Sign Up
Create your account to get involved with the Community