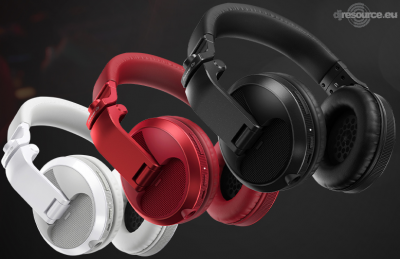 Today Pioneer DJ announces our new HDJ-X5BT headphones with Bluetooth.
The HDJ-X5BT is audio technically seen identical to the HDJ-X5 you might already know so they sound the same.
There are a few differences that the X5BT has that the regular model doesn't have :
The biggest differences is the addition of Bluetooth technology.
The HDJ-X5BT has a build in battery that will last for up to 20 hours after a 3 hour charge.
With the build in microphone you can also use it to make handsfree phonecalls.
The HDJ-X5BT is available in 3 colours :
-K = Black (like the regular HDJ-X5)
-W = White (like earlier model HDJ-2000)
-R = Metallic Red (long time ago we've had an EFX-500-R in similar color, the HDJ is a bit less glossy though)
For more details and the exact specifications you can check the Press Release or the Pioneer HDJ-X5BT in the Gearbase.
Price and Availability
The HDJ-X5BT is available in 3 colors from November 2018
The SRP for the HDJ-X5BT is 159 euro's
More detail in the official Press Release or check out the gearbase (more info added a bit later)