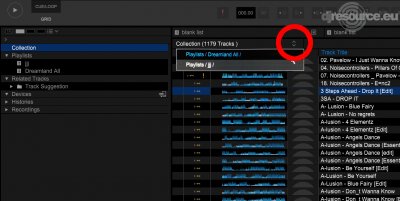 haha, dit is inderdaad iets waar ik nog iets over moet schrijven want dit is een ondergeschoven feature in RB.
Maar die is zeker zijn eigen topic waard want dit is iets waar heel veel mensen niet vanaf weten terwijl het zo handig is.
Het korte antwoord zodat jij alvast verder kan :
Ja dit zit er nog in en heeft er eigenlijk altijd in gezeten maar mensen hebben het niet gezien.
Selecteer 1 track (werkt niet als je er meer hebt geselecteerd) in je Collection of in een playlist of waar dan ook.
Naast Collection licht een pull-down op als de track in een playlist zit, die kun je open klappen en daarin staan alle playlsten waar die track in zit.
Rechts op de regel waar het woordje COLLECTION staat zie je dakje-omhoog en dakje-omlaag, daar moet je op klikken.
Maar hoop dat je het niet erg vind dat ik hier weer zo'n topic van maak, dat kan echt meer mensen helpen denk ik