Rekordbox doesn't want to start exporting tracks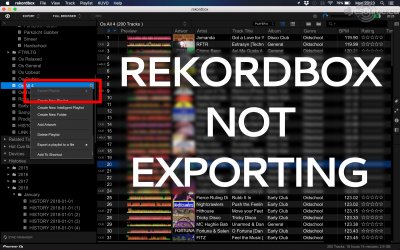 'Rekordbox doesn't want to start exporting, I have a USB in my computer but it doesn't give me the option to export in the right-click dropdown menu to export my files or playlists to the device.'
Why ?
If Rekordbox does not show you the option to eport to a device, rekordbox cannot find any suiteable devices to export to. Sometimes it happens that Pioneer DJs Rekordbox (music management software) looses connection to your USB or SD device. This can be cause by a lot of things and is mostly out of your control.
What to do
The solution is to close Rekordbox first.
Then check if Explorer or Finder still sees the device and safely remove your USB or SD from the computer.
(if trouble persists you could optionally reboot now)
Restart Rekordbox
Insert the USB/SD again
By now you should be able to export again to your device. If above doesn't solve it, you got something else going on.