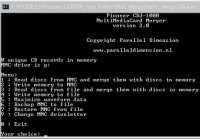 Software to merge multiple CDJ-1000(MK2)'s MMC's.
You actually copy all unique points independantly so none will be lost !
The missing tool for your Pioneer CDJ-1000. As a DJ you probably use more than one CDJ-1000 at the same time. Do you also find it frustrating that there is no easy way to synchronize the two players MultiMediaCards? Then this software is definitely a must have.
With the MMC_Merger you are able read all your memory cards in your computer, merge the data of multiple discs together and write the merged result back to your memory cards. You can even save the memory to your computers hard disc.
Features
Option to maximize the waveform data
Write merger results to your harddrive
New features of the 2.0 version:
MMC drive letter is now remembered during sessions
Added feature to backup/restore MMC without loading them into the program memory
Merger process now works on CUE point level instead of CD level
This Download is the public version, it DOES NOT work on MK3's !
Go to Parallel Dimension to purchase the full version.
This download has the following limitation in comparison to the full version:
No support for waveform maximization
No support to save data to your harddrive
No backup/restore support
Use limitation of 10 MMC card writes
No support