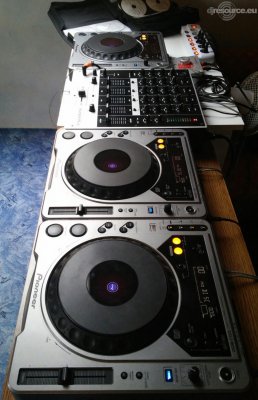 Maybe its a bit old school but man, I love these.
I am using a noise isolating in ear monitor, the 'Shure SE215', and a thing called 'SM Pro Audio Nanopatch Plus' for great sound quality into my IEM and easier use. I use the Nanopatch for controlling the volume of my Shure, because its sensitivity is low (and I don't need high volumes because of the good noise isolating). Into its left side goes the mixers headphone output with the cue knob turned to the left (cue only), and into the right side goes the right channel of the booth output. If the booth out isn't free, i can use the right signal of the rec out too.
This sounds a bit complicated I know, but it isn't as bad as it sounds.
I'm planning on buying a Pioneer DJM 600 (probably silver) instead of the Numark mixer because of the effects. Oh, and a good flight case could be useful for them.