Pioneer CDJ-500II
Pioneer CDJ-500II
CD Player with Jogdial (discontinued)

This content is © 2013 The DJResource...
Submitted by
Lead

on
26-01-2003
@
15:19



First DJ-CD player with jog-dail and loop
In the time that Pioneer released the CDJ-500 (followed up by the
CDJ-500II
and finally by the CDJ-500II LTD) this was a machine with lots of industry first feateres. Things that people always wanted to have on a CD player, but that were not available at that time. Nowadays Pioneer proves it's leadership with flagship models like the
CDJ-1000
series.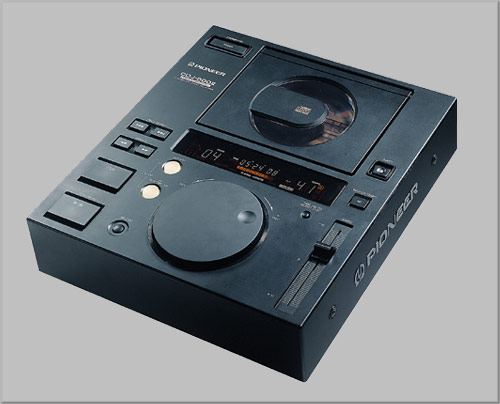 Specifications
Product Type
CD Player for DJ's
Type of Discs
12 & 8cm
Disc Format
CD, CD-R
Frequency Response
4Hz ~ 20kHz
Distortion
0.004 % (JEITA)
Signal to Noise Ratio line
106 dB
Dynamic Range
96 dB
Channel Seperation
98 dB or less
Power Supply
AC 220-240V, 50/60Hz
Power Consumption
21 W
Dimensions
320 x 362.1 x 98.5mm ( WxDxH )
Net Weight
4 kg
Accessories
Operating Manual, Power Cord, Control cord, Forced Eject Pin
---
Jog Dial
For a Closer-To-Vinyl Feel! : This large, quick-response dial makes frame-by-frame search and cue point selection easy and accurate while providing a closer-to-vinyl turntable feel.
Flat-Top Design
The CDJ-500II's top-mounted controls are easy to use, for DJs used to working with turntables. The controlls are situated on a position that DJs are used to.
Quick Start
When you hit the Play button, the CDJ-500II starts the music instantly so you can match rhythms with pinpoint accuracy. There is absolutely no delay noticable !
Playing Address
A light bar provides an at-a-glance graphic indication of elapsed playing time, this feature makes it possible to keep an eye on the remaining time in just a blink. Also it's possible to swith the dispayed information from played/remaining time.
Tempo Control
A DJ-standard long-stroke slide allows quickresponse control over pitch and speed within the range +/-10%.
Master Tempo
An industry first, this new Master Tempo control locks in the music's pitch even when the tempo changes. Now you can vary the beat with no change in vocal or instrument tone. Or more important : corrections in tempo are almost not hearable....
Auto Cue
Automaticly sets a CUE point in a track on the position where the player measures an increasement of the audio level. This is mostly the first beat in a track. Unfortunalty when you're tracks starts with a slowly increasing sound this function might not work perfectly.
Manual Cue Auto
Cue automatically locates the song's start point even if it differs from the track's 0 frame, while Manual Cue allows the cue point to be set freely. Also, using the Cue button, you can operate the player like a sampler.
The Manual Search button or the jog dial can make cue point a frame-by-frame search of the CD for the exact cue point you want. This is a function that has been inplanted in all future products that followed this legendary CDJ-500II
Real-Time Cue Point
Set the cue point by pressing the Loop In button during playback. Then press Cue to set the cue point.
Fader Start Play / Back Cue Play
When the CDJ-500II (LTD) is used with a
DJM-500
,
DJM-300
, or
DJM-300-S
mixer, you can start the music with a fader, or cross fader, or use them to return to the cue point.
Safety Guards
Power and Eject button safety guards prevent accidental music cutoff and the pickup protective slide operates automatically when the CD door opens.
---
Loop Features
The CDJ-500II has some very handy Loop features.
SEAMLESS LOOP
Any sequence can be sampled and seamlessly looped as many times as desired (max length of the loop is 10 minutes).
REAL-TIME LOOP
This function lets you set a phrase start point in real time during a live performance. The end point is also set in real time. The CUE points is the same as the LOOP-IN point, so for the most accurate in-point you should just set the CUE point in the right position and the only thing you have to bother about is the LOOP-OUT point, but after some practice nothings is in your way for perfect loops.
LOOP-OUT ADJUST
During a loop, use this function to enter the Loop-Out Point correction. Then, after the adjustment is made, the jog dial enables easy re-setting.
LONG LOOP and SHORT LOOP
With Long Loop, up to 10 minutes of music can be sampled and seamlessly looped as many times as needed, while Short Loop lets you loop half beats and phrases as short as one frame.
RELOOP
After a loop is released, the reloop button returns you to the loop start point.
---
This content is © copyrighted 2013 The DJResource...

Read other Linked Topics
»
Knowledge
›
The Pioneer Pro-DJ History
»
Knowledge
›
Faderstart on CDJ, CMX and DJM

Pioneer CDJ-500II
3 Comments for this DJ Topic
remixer

wrote on 07-03-2006 at 00:19
ik heb deze cd spelers 11 jaar gehad
en ze werken nog steeds 100% ze staan nu bij een neef van mij want die heeft een zender
CopainsDeluxe

wrote on 04-09-2009 at 17:50
ik heb deze cd spelers ook zo'n 7 jaar gehad ! geweldige dingen zijn het!
RubenSanchez

wrote on 23-08-2012 at 21:37