Freeview for CDJs
Freeview for CDJs
A sun blocking device for your CDJ-1000


This content is © 2013 The DJResource...
Submitted by
Lead

on
31-08-2008
@
01:08
Dit topic is er ook in het

NEDERLANDS : Lees hier meer

The Pioneer CDJ-1000 series CD players became industry standard over the years but there is one issue that was bothering a lot of DJs when playing in the open air. When sunlight hits the display it can be very hard to read and keep track of the waveform or the time that is left. The solution is here : the
Freeview
.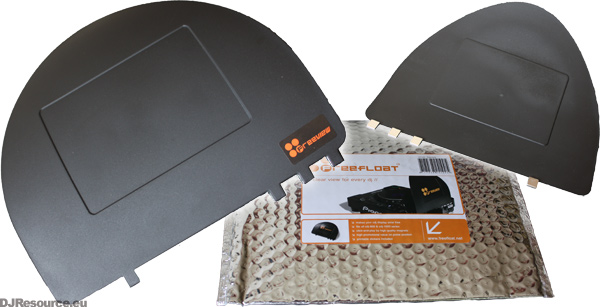 The Freeview is a

Dutch invention and is introduced in the after-summer of 2008. It is
NOT an official Pioneer product
but a third-party add on. The Freeview can be easy carried in you CD wallet as it is only a few millimetres thick. It is made out of flexible material and should be able to survive the toughest rides.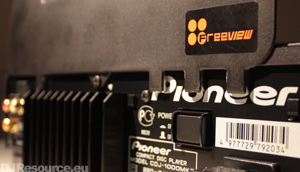 What is the Freeview
The Freeview is a portable sun and light blocking device that can be attached to a Pioneer CDJ-1000 CD player. As Pioneer kept their design alike the Freeview fits on ALL CDJ-1000's :
CDJ-1000
,
CDJ-1000mk2
and
CDJ-1000mk3
.
It is designed to block out any annoying light but still gives you free access and view of all the buttons that are on the sides of the display.
How does it work ?
The plastic shield is attached to the CDJ with 4 Neodymium magnets. The magnets fit on the metal backside of the CDJ and keep it tightly on it's place.
Does it damage the CDJ ?
At the moment of writing this, there is no proof that it does.

Use the Freeview on CDJ-800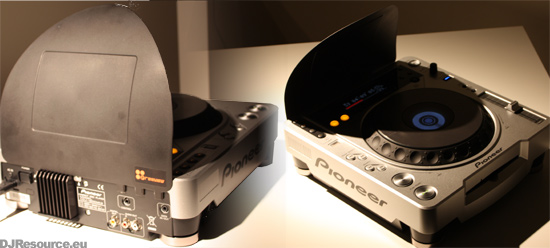 The Freeview is designed to fit on all models CDJ-1000s and both models
CDJ-800
(and
CDJ-800MK2
).
As the CDJ-800 differs a bit from the CDJ-1000 the current model doesn't fit perfectly (95%).
Improvements to the design of the Freeview are promised so future models should fit both perfectly. The current test model kept on it's place while using the CDJ-800.
Use on DJM-800 and DVJ-1000s
The Freeview can also be used on the
DJM-800
and on the
DVJ-1000
but it doesn't fit as nice as on the 1000s.
When used on the
DJM-800
the Freeview makes sure you can read your VU levels at all times. This will avoid you from putting a hand between the sun and the VU meter... or skip readin the meters at all.
On the DVJ it sits pretty wobbly as the body of the DVJ has a larger overhang than a CDJ. Due to this the Freeview doesn't sit as tight as it would on a CDJ. So it might move out of it's place when your over excited in handling the
DVJ-1000
.

Read more on the
Freeview website
.
---
This content is © copyrighted 2013 The DJResource...


Freeview for CDJs
10 Comments for this DJ Topic
Laidback

wrote on 22-09-2008 at 17:24
en als de zon nou van Recht boven je komt ?
zoals op een warme zonnige dag ?
kan me voorstellen dat er altijd een soort van Limiet is.,
een paar Parren (1000watt) achter de dj booth kunnen het zicht denk ik al drastisch verlagen ??!!

wel een hele leuke uitvinding!!
evt een Richtprijs beschikbaar?
dit is misschien wel iets voor verhuurbedrijven
remixer

wrote on 04-10-2008 at 11:45
inderdaad wel handig, maar ik vindt ze er niet mooi eruit zien
Lead

wrote on 09-10-2008 at 12:46
Price of a set of 2 pieces is € 24,95 euro
Stefjuuh

wrote on 01-09-2008 at 14:38
How does this fit on the cdj/djm-400?
Lead

wrote on 01-09-2008 at 22:17
It does NOT fit on
CDJ-400
or
DJM-400
, else I would have taken the picture

RoyBeware

wrote on 10-09-2008 at 16:16
:D handig bedacht :D
Dolivieira

wrote on 01-06-2009 at 17:47
Afgelopen Zaterdag op een festival gedraait. Kon ik en dj collegas wel 3 of 4  gebruiken
Stefjuuh

wrote on 08-09-2009 at 23:14
Heerlijke dingen! Passen mooi voorin je CD-map, gewoon setje (of 2) kopen en meenemen, MUST!
T-to-the-J

wrote on 20-08-2010 at 10:54
Passen ze eigenlijk ook op de cdj-900/2000/850?
dj-zero

wrote on 22-08-2010 at 09:36
Ik heb dezelfde vraag in het cdj850 topic gezet en daar antwoord gekregen.
Het leek mij misschien wel handig om het antwoord ook hier even erbij te zetten.
De freeviews passen
niet
op de nieuwe cdj850! En ik denk dan dus ook niet op de cdj 900/2000.
Iig dat hoop ik, om een simpele reden.
Als de freeviewd niet op de
CDJ-2000
passen zullen er waarschijnlijk nieuwe modellen freeviews aankomen die hier wel op passen, en die zullen dan hopelijk ook op de 850 passen.
Is het zo dat de oude freeviews wel op de
CDJ-2000
passen, zal er waarschijnlijk geen nieuw model komen.