Submitted by
Lead

on
18-07-2006
@
02:47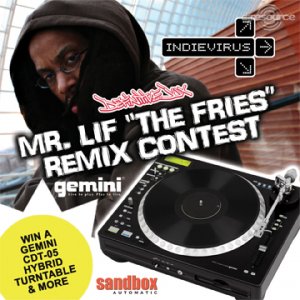 Edison, NJ - Jul 11, 2006 Definitive Jux Records, Gemini, Sandbox Automatic and IndieVirus bring you the official MR. LIF "THE FRIES" REMIX CONTEST.
Download the a capella for "the Fries," cook up a dope, original remix, and you could win a brand-spanking new Gemini CDT-05 Hybrid Turntable, a $100 gift certificate to Sandbox Automatic, one of five autographed, limited edition 7" vinyl "The Fries" singles from Def Jux, and more.
Download the vocals at
http://indievirus.com/...
and get to work.
ALL ENTRIES MUST BE RECEIVED BY JULY 31st.
See below for more information on prizes and submission details. Download the full set of rules
here
FIRST PRIZE: One (1) Gemini CDT-05 Hybrid Turntable Featured download on Definitive Jux and IndieVirus websites
SECOND PRIZE: $100 gift certificate to Sandbox Automatic
RUNNER-UP (FIVE WINNERS): Autographed, limited edition 7" vinyl "The Fries" single

SUBMISSION GUIDELINES
Email your original remix as an MP3 file to indievirus@gmail.com by 5pm EST on Monday, July 31st 2006. MP3 files may not exceed 5MB or 5 minutes. Include your name (legal and alias), email address and phone number with your submission. See contest rules below for additional conditions. Participation in this contest constitutes your full and unconditional agreement to and acceptance of these rules. You can (and should) download the full rules at
here
.
THE ARTIST: Mr. Lif
Mr. Lif's stunning sophomore solo album, Mo' Mega, is in stores now on Definitive Jux Records, and is produced by El-P and features Aesop Rock, Murs, Akrobatik, Blueprint and more. Find out more about
Mr. Lif
and Definitive Jux at
www.definitivejux.net
.
GEMINI CDT-05 HYBRID TURNTABLE
Gemini's CDT-05 hybrid turntable is the first turntable of its kind allowing simultaneous playback of both CD and Vinyl. Delivering everything you've come to expect from a high-end turntable combined with the power of a fully featured CD player that can be controlled through a full sized aluminum platter, the CDT- 05 Professional Hybrid Turntable promises to provide DJs with next level of versatility never before seen.
You can read more here :
www.indievirus.com
News can be submitted by our members, DJResource can not be held responsible for the content.
Showing 2 Comments

Lukaz
wrote on 18-07-2006 @ 13:31
The Vocal Download Link doesnt work!


Lead
wrote on 18-07-2006 @ 15:20
you have to register at their site first. It's a flash website, make sure you have the right plugins for your browser