Submitted by
Winston

on
23-01-2010
@
00:22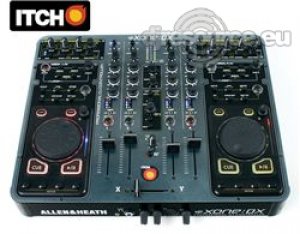 The Xone:DX is a new performance audio controller for electronic DJs and is the result of close design collaboration between Allen & Heath and Serato. The DX has been co-engineered with new Serato ITCH DJ software that now offers 4-decks and DJ FX.
Allen & Heath are the fourth major manufacturing partner to co-engineer on the Serato ITCH platform. Using their 40 years of experience creating world class mixers and specialty controllers, Allen & Heath now provide for the future of electronic music performance.
The Xone:DX system arms a breed of electronic performer that wants precise control and manipulation of more audio with their DJ performance, in the club and everywhere they travel.
The 4 virtual decks exist in a clean uncluttered environment on the ITCH software interface. Using the DX library navigation control, you can quickly make selections from your crates. You can then accurately mix 4 audio tracks on the virtual decks along with other external sources. Each of the virtual decks can be assigned multiple Serato DJ FX that are hosted in ITCH software.
The Xone:DX encourages performers to remix, rework and make new music on the fly. With 4-decks in action and BPM based effects, Serato have adopted new synchronization options for this next generation of ITCH. An additional beat grid has been added to make quick work of more complex mix arrangements.
The collaboration has resulted in a portable piece of digital DJ technology, absolutely brimming with features and high end specification. Because the DX is official ITCH hardware, Serato have made sure it simply works out of the box. There has simply never been a more ergonomic controller with this many extreme options at your finger tips. It fits in a bag, but has everything you need to melt a superclub.
You can read more here :
www.xone.co.uk
News can be submitted by our members, DJResource can not be held responsible for the content.
Showing 11 Comments

JayStone
wrote on 23-01-2010 @ 02:22
This one is bad ass!!!  Cant wait for mine!


Woudtje
wrote on 28-02-2010 @ 22:31
Looks very nice, I'm impressed .

Tekhead
wrote on 03-03-2010 @ 07:04
ff inhouden he woudtje


Woudtje
wrote on 03-03-2010 @ 21:31
Jullie moeten mij wel hebben he, hahahaha. Ik denk Kuch, kuch altijd heel kuch goed na over mijn kuch, kuch, kuch aankopen 
.

Dolivieira
wrote on 07-03-2010 @ 19:08
Ja zeker een mooi ding.

BennoRevelli
wrote on 17-03-2010 @ 11:15
ben benieuwd hoe hij bij de eigenaren gaat bevallen..

T-to-the-J
wrote on 21-03-2010 @ 08:29
En hoe duur gaatie worden?

BennoRevelli
wrote on 21-03-2010 @ 12:03
@ T-to-the-J

Ongeveer € 1180,-

Mitchell2
wrote on 21-03-2010 @ 12:46
ik vind hem niet mooi en geef me geld liever uit aan iets anders van xone

T-to-the-J
wrote on 21-03-2010 @ 14:13
Ik vind m super, jammer dat ie zo duur is!