Submitted by
Winston

on
28-08-2009
@
17:01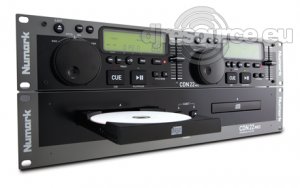 Numark's new, basic, dual-CD player, CDN22 MK5 made its debut in Numark's stand, B 21 in Hall 5.0 at Musikmesse, April 1 - 4, 2009. Held in Frankfurt am Main, Germany, Musikmesse is the world's largest fair for musical instruments, live music and the music business.
CDN22 MK5 is a straightforward, dual-CD player for mobile DJs and club installs. The CD player is built in an attractive, rack-mount package that is equally at home in angled and straight racks. DJs can mount the control and drive units together or separately for setup flexibility. CDN22 MK5 plays CD and CD-R discs for media convenience. The CD player is housed in an all-metal chassis for rugged, reliable performance.
CDN22 MK5 gives DJs rapid track access on its easy-to-use multifunction jog/shuttle wheels. They can locate specific points within a track, and control pitch bend with the jog wheels. DJs can pitch tracks up and down by 12-percent for beat matching. CDN22 MK5's programmable playback enables DJs to set up a sequence of tracks for convenient playback.
CDN22 MK5 has standard RCA outputs for connection to nearly any audio system, and it also has a lossless S/PDIF digital output for even lower-noise playback. In addition, Fader Start automatically starts playback when the DJ moves the crossfader on a compatible mixer.
"CDN22 MK5 has all the basics any DJ demands," said Adam Cohen, Director of Business Development, Numark. "This new version of CDN22 has the modern, clean, black-and-gray look that has been so popular on our new mixers."
CDN22 MK5 will be available from DJ and professional audio retailers Q3, 2009.
You can read more here :
www.numark.com
News can be submitted by our members, DJResource can not be held responsible for the content.
Showing 5 Comments

JollyJunkie
wrote on 29-08-2009 @ 12:00
Ze maken em steeds lelijker en onduidelijker: zwart op zwart

Winston
wrote on 29-08-2009 @ 14:11
Nou ik hou niet zo van kleurtjes op DJ apparatuur.

JollyJunkie
wrote on 30-08-2009 @ 20:49
Ik opzich ook niet, maar totaal verlichte knoppen vind ik toch wel handig in het donker.

En nog geen MP3 nee, maar dat heeft de Axis 9 ook niet.
Ik geloof dat ze hier wel een MP3 versie van verkopen, weet alleen niet wat de naam er van is.

ArCee
wrote on 29-08-2009 @ 20:56
CDN 22 is een echte no nonsens twin player, doet t gewoon goed. Alleen volgens mij noig steeds geen mp3's spelen?


Estacy
wrote on 13-09-2009 @ 17:03
Hoe lelijk kun je hem maken? al zal die wel goed werken. MP3 vindt ik trouwens geen vereiste