Submitted by
Lead

on
08-03-2008
@ 16:21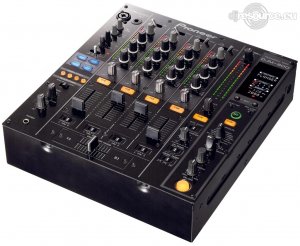 Brand :
&nbsp
Pioneer

Model :
&nbsp
DJM-800

Category :
&nbsp
Mixers

Website :
&nbsp
www.pioneerprodj.eu
Only our members can see Gear details
The Pioneer
DJM-800
brings pure audio fidelity by the hi-end 96kHz/24 bit A/D converter that's complemented by 61 assignable MIDI control channels and a landmark innovation, 'Harmonic Mixing' capability – that detects a track's key and automatically aligns it to the closest true key, removing inaccuracies created when adjusting the pitch.
The DJM800 mixer inherits the high fidelity technology of its big brother the
DJM-1000
. The analogue signal from the player is immediately digitized (through the shortest possible route) by a pro A/D converter at 96kHz/24bit, reaching the ultra-powerful (32bit) Digital Signal Processor without deterioration of quality.
Another key feature is the fully assignable MIDI function. This means that MIDI signals can be sent from almost all knobs and switches on the surface of the DJM-800 (a total of 61 assignable controls) to external midi equipment.
Like the DJM-1000, the DJM800 also has the same high rigid chassis for minimizing unnecessary vibration that could adversely affect sound quality. It is based on the same layout and footprint as the
DJM-600
, providing the natural and familiar feel known to DJs across the world. It also incorporates a dual-shield structure for eliminating entry of digital noise and a high performance power supply.
Specifications
Sampling Rate
96 kHz
A/D, D/A Converters
24 bits
Internal Processing
32 bits
Cross talk
82 dB
Frequency Response
20Hz ~ 20kHz
Distortion
0.005 %
Signal to Noise Ratio line
Signal to Noise Ratio phono
88 dB
Power Supply
AC 220-240V, 50/60Hz
Power Consumption
30 W
Dimensions
320 x 381 x 108 ( WxDxH )
Net Weight
8 kg
Input Specs & Terminals
Digital
4 x (RCA) / Coaxial
CD/Line
4 + 1 (RCA)
Phono
3 x (RCA)
Mic / Sub Mic
1 x(Combi Phone/XLR)
2 x(Phone Jack 6.3)
Faderstart
4 x (mono mini JACK)
Return
2 x mono (Phone Jack 6.3mm)
Output Specs & Terminals
Digital
1 x (RCA) Coaxial @ 48kHz or 96 kHz
Master Out 1
1 x (XLR) +2 dBu / 600 Ohm
Master Out 2
1 x (RCA) +2 dBu / 10k
Booth
1 x (Phone Jack TSR Balanced)
Record
1 x (RCA) -8dBu / 10k
Send
2 x mono (Phone Jack 6.3mm)
Midi Out
1 x (5 pin DIN )
Headphone Monitor Out
1 x (Jack 6.3mm) +8.5 dBu / 32 Ohm

Channel Equalizers

Low Frequency

-26 ~ +6 dB @ 70Hz

Mid frequency
-26 ~ +6 dB @ 1kHz
high Frequency
-26 ~ +6 dB @ 13kHz

Microphone Equalizers

Low Frequency

-12 ~ +6 dB @ 100Hz

high Frequency
-12 ~ +6 dB @ 10kHz
---
9 User experiences and Reviews
djfuse

wrote on
06-04-2008
at
18:35
aaaaanrader voor elke dj

top!!!!!

MaD

wrote on
25-04-2008
at
13:35
Nog geen seconde spijt gehad dat ik deze aangeschaft heb

Ran-D

wrote on
03-07-2008
at
11:26
Dikke mixer! ik heb hem ook!

mosthighsoundz

wrote on
24-08-2008
at
13:32
Now then what can you say about this little box magic ?

Coming from the previously excellent range of DJM mixers from Pioneer DJM 800 continues the high standard.


To us here in our dark DJ basement at Most high soundz it is the best piece of kit they offer outshinig in our opinion the nearest rivals Allen and Heath or as we call them stress and grief because most Djs have little or no experience of the heaths so dominant are the pioneers.
It offers a completely new generation of effects including the banging roll effect and harmonic mixing cababilty to achieve exactly the right key, for djs who knew how to key match before annoying because now just press a button rotate the fader and the light goes green when they key match no skill there.

The build quality of all these units is precise and they last very well and as with most pioneer products they hold there second hand value very well I cant really say any thing bad about this unit it is sex in a circuit board but if there was a quibble with any of the djm units it would be how expensive it is to replace the buttons and fader knobs that seem to come of on there own accord.
You need this mixer in your set it the best yet and looks so good 9/10
Tintin

wrote on
10-11-2008
at
01:11
Got it. Excellent mixer!
djvnzza

wrote on
05-03-2009
at
19:15
Super!!! voor elke dj aan te raden!
Maar wel meteen een smak geld weg...
the_enforce

wrote on
13-03-2009
at
11:31
Top!
milanium

wrote on
19-03-2009
at
16:59
SUPER
DJTano

wrote on
31-03-2009
at
16:40
OMG!! THIS IS NICE