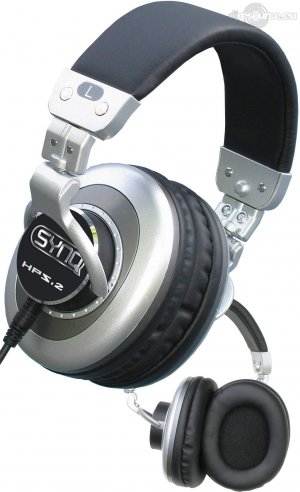 Brand :
&nbsp
Synq

Model :
&nbsp
HPS.2

Category :
&nbsp
Headphones

Website :
&nbsp
www.beglec.com
&nbsp
[Details]
Only our members can see Gear details
The same features as
Synq HPS-1
but with:
Features

Even better wearing comfort due to specially formed ear cushions

Detachable curled cable with 90° angled jack connector (3,5mm + 6,3mm)

Complete foldaway design and free carrying bag for easy transport
Specifications

Transducers:High Power Drivers D=50mm

Magnet type: Neodymium

Frequency response: 15-22.000 Hz

Sensitivity: 101dB (+/-3dB@1kHz)

Impedance: 29 ohm (+/-15%)

Maximum Power: 1000mW

Cable length: 3m curled type

Plug: 90° angled 3,5/6,3mm screw type Jack

Headband: Adjustable, soft vinyl covered

Ear Cushions: Soft vinyl covered foam

Accessories: 1 extra 3,5mm to 6,3mm adapter + pouch

Weight: 280g
4 User experiences and Reviews
Arii

wrote on
15-04-2008
at
10:21
Een zeer lekkere headphone! Heb m al een jaartje, en nog steeds in perfeste staat! Ook bij hard geluid, nog steeds zuiver!
Top ding!
timmyk

wrote on
01-10-2008
at
22:36
kheb der ook zo een!
echt voor dat geld top-klasse!
Jori

wrote on
21-10-2008
at
20:58
Ik hebe r ook een, zit fucking lekker en perfecte geluidskwaliteit. Sluit ook goed af, alleen vind ik de speakers iets te groot ten opzichte van m'n hoofd das een beetje vaag... verder top!!
Gilles123

wrote on
29-12-2010
at
21:55
deze koptelefoon net aangeschaft dat ding zit f*cking goed en heel goeie geluidskwaliteit!!!!!!!!!!!!!!!!!!!!!!!!!!!!!!!!!!!!!!!