XONE 92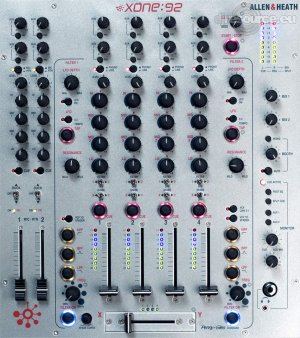 Brand :
&nbsp
Allen&Heath

Model :
&nbsp
XONE 92

Category :
&nbsp
Mixers

Website :
&nbsp
www.xone.co.uk
&nbsp
[Details]
Only our members can see Gear details
Features

2 independent stereo mix outputs

Dedicated booth output

6 stereo channels (4 phono or line, 2 mono/mic or stereo return)

2 auxiliary sends selectable pre/post fader (and cross-fader)

New twin-rail VCA channel faders or high quality VCA rotary faders

2 independent Low Frequency Oscillators (LFO) for filter modulation

Custom illumination showing status of all performance switches

Intelligent cue system allowing pre or post EQ monitoring

2 x headphone outputs ¼" and 3.5mm jack

Talkover facility on mono/mic channel attenuates music by 20dB

Dedicated clean feed record output

Universal power supply for worldwide performance

Internal installer options for system optimization

Monitor section - includes post EQ switch; split cue and mix to cue balance

2 VCF filters - any performance channel can be assigned to either filter and either side of cross-fader

Active cross-fader allowing contour to be set from smooth to scratch mix

MIDI output from VCF 1+2, cross-fader, LFO (MIDI clock), dedicated data control and start/stop button

4 band EQ, with 'infinite kill' on HF and LF; wide Q for cut, narrow Q for boost.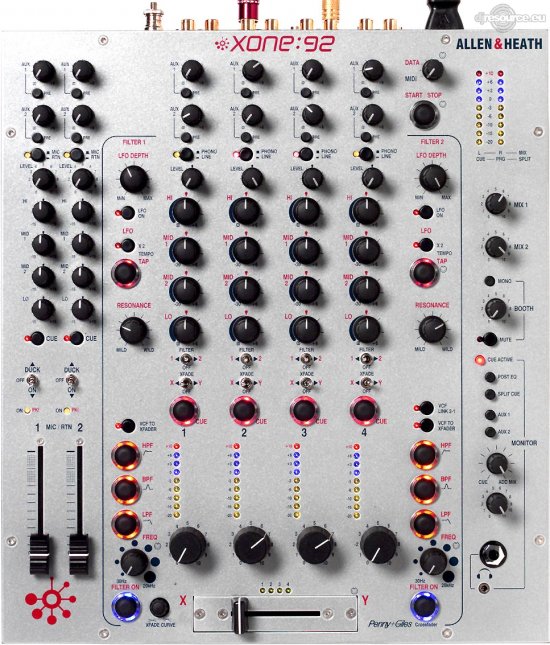 6 User experiences and Reviews
Twello

wrote on
09-04-2008
at
21:36
beste faders ooit + 2 filterunits + 4band EQ + 2 aux send/return + Penny+Giles Crossfader + midi.
Moet ik nog verder gaan? Dit is gewoon de top!
Bambilaner

wrote on
18-06-2008
at
19:34
Mixer waarvoor ik spaar

DJ_IVI-R

wrote on
31-07-2008
at
00:07
ik zou er supergraag eens mee spelen!
Mixt-Ape

wrote on
15-02-2009
at
21:38
Ben er serieus over aan het denken om mijn DJM-800 in te ruilen voor deze...
lek3ct

wrote on
28-10-2009
at
13:57
The LFOdepth is defenitely the feature why u want to get this mixer! check youtube!
Ilja

wrote on
15-04-2010
at
15:02
XONE mixers is gewoon lame,  Een gehad,  geef mij maar Pioneer of Denon.    XONE S2 de enige met Faderstarts en dat hebben ze knullig ingebouwd, kunt het niet eens uit zetten ( ja de kabel der uit trekken ).
-
Ik snap niet waar iedereen wild van wordt ? 
Behalve de Filter geen effecten en verschrikkelijk duur.