Submitted by
Lead

on
08-03-2008
@ 16:25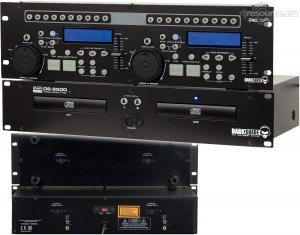 Brand :
&nbsp
DAP Audio

Model :
&nbsp
DS-850D

Category :
&nbsp
CD Players (Twin)

Website :
&nbsp
www.highlite.nl
Only our members can see Gear details
A complete DJ tool for mobile use or fixed installations.
DAP introduces a whole new lineup of DJ equipment: the DarkShade dancegear series. This DS-Series kicks off with a mixer and CD-player series. These series which comes in a black finish embodies a new direction in DJ equipment: affordable but full featured cool-looking gear for the enthusiastic user in clubs, pubs, schools and at home.
Features

Auto Cue function

Instant start (direct play by touch)

Pitch range: +/-12%

Specifications

Power Supply: 115/230V 50 / 60 Hz

24 bits DA converter

44,1 kHz sampling frequency

Harmonic distortion: 0.03%

Signal/noise ratio: -96 dB

Weight: 7,5 kg

Dimensions: 480 x 260 x 220 mm