D 500AL II
Submitted by
Lead

on
08-03-2008
@ 16:23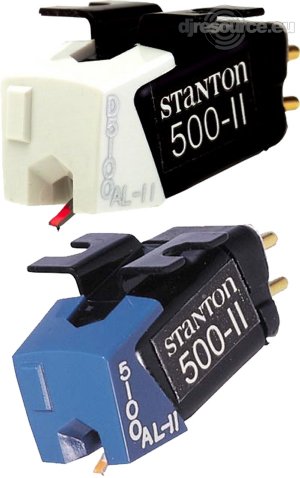 Brand :
&nbsp
Stanton

Model :
&nbsp
D 500AL II

Category :
&nbsp
Stylus & Cartridges

Website :
&nbsp
www.stantondj.com
Only our members can see Gear details
The Stanton 500 AL II provides the perfect balance of economy, reliability, ruggedness and optimum performance. From studio use to the mobile scene, it is built for the most discriminating professional.
For years this was the industry standard. A very cheap and robust cartridge that could survive the worst things that can happen (putting the needle on the slipmat).
The earliest version of this stylus was completely white and gained all the fame for the 500-series.
At some point in the mid 90's Stanton decided to improve their stylus and features this new model with a blue painted dot on the front. But this was not the improvements Stanton had hoped for as the stylus was a long way from the quality it's predecessor had.
Stanton responded in re-designing the stylus and re-introduce it again, but now made from blue materials. This was an improvement over the 'bad' update, but it still didn't tip the quality of the original.
Specifications

Frequency Response 20 to 17 kHz

Output @ 1kHz: 4.6mV

Channel Separation @ 1 kHz: 28dB

Channel Balance @ 1 kHz: within 2 dB

Tracking Force: 2 to 5 grams

Stylus Tip: Spherical .7 mil Special High Polish

DC Resistance: 535 ohms

Inductance: 400 mH

Cartridge Weight: 5.5 grams

Tracking Ability: 80µ @ 3 grams

Recommended Load: 47k ohms and 275 pF
1 User experiences and Reviews
Estacy

wrote on
16-10-2010
at
12:48
hij trackt niet het beste, hij klinkt niet het beste, maar man wat is dit ding stevig. Stiekem verkies ik em boven mn Ortofon PRO, al is die wel beter. Deze Stanton heeft iets wat Ortofon naaldjes niet hebben. karakter.