Submitted by
Lead

on
08-03-2008
@ 16:23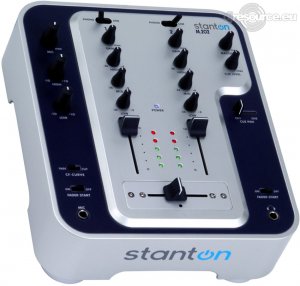 Brand :
&nbsp
Stanton

Model :
&nbsp
M.202

Category :
&nbsp
Mixers

Website :
&nbsp
www.stantondj.com
Only our members can see Gear details
The M.202 is a compact 2-channel mixer designed with the aspiring DJ in mind. It features a high-performance crossfader with 2 -way curve adjust, two selectable Phono/Line inputs, a Microphone input and the quality look and feel of Stanton's new industrial design. Fader Start outputs let you control the playback of fader start-compatible CD players, making the M.202 the perfect match for Stanton's new C-Series CD players.
Features


Affordable 2-channel mixer featuring new Stanton design

3-band EQ per channel with +9/-26 dB boost/cut

Microphone input with separate gain and 2-band EQ

Cue Pan and Cue Volume controls

Fader Start outputs for use with compatible CD players

High-quality crossfader delivers long life and superior performance

2-way crossfader curve control for mixing or scratching

Channel EQ
- Hi 9 +/- 2dB AT 13KHz -15 +/- 3dB AT 13KHz
- Mid 9 +/- 2dB AT 1KHz LESS THAN -23dB AT 1KHz
- Low 9 +/- 2dB AT 70Hz -26 +/- 3dB AT 70Hz
Specifications

MAX. OUTPUT (THD=1%)

Master MORE THAN +14dBV (8.0V)

FREQUENCY RESPONSE: (line) 20-20KHz ±2dB

OUTPUT NOISE (IEC-A WEIGHTED): < -90dBV

THD + N: (line) < 0.05% 20 - 20KHz

Signal to Noise Ratio <106dB

Crosstalk LESS THAN -80dB AT 1KHz BETWEEN CHANNELS.

Mic EQ : High ±10 +/- 2dB AT 10KHz, Low ±10 +/- 2dB AT 100Hz

Inputs/Outputs

Line Inputs 2 (RCA), -10dB/47K ohm

Phono Inputs 2 (RCA), -50dB/47K ohm

DJ Mic Input 1 (1/4&quot

, -50dB/6K ohm

Master Output 1 (RCA), -10dB/47K ohm

Headphone Output 1 (1/4&quot

, -3dB/33 ohms

Mic Tone +/-10dB (Hi, Low)

Dimensions 230 (W) X 267 (D) X 111 (H) mm

Weight 1.61Kg