Submitted by
Lead

on
08-03-2008
@ 16:22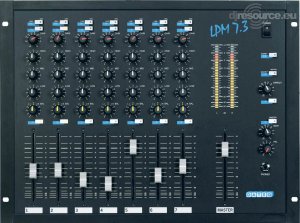 Brand :
&nbsp
Dateq

Model :
&nbsp
LPM 7.3

Category :
&nbsp
Mixers

Website :
&nbsp
www.dateq.nl
Only our members can see Gear details
The LPM7.3 is a very versatile, 7 channel stereo mixer with an extraordinary high quality. At least 14 stereo signals and 7 microphones can be connected simultaneously. Herewith the LPM7.3 is introducing a new standard for professional audio.
Each channel can handle three different audio signals. By pressing the button you can switch between a microphone or a line input. When the line-input is selected a second button makes it possible to switch between line 1 and line 2 input. However channels 3, 4 and 5 have one line and one phono-input. This means you can have 21 audio-inputs within reach! Another typical professional application is the balanced stereo master output on a XLR-Male connector; besides this connector there is a cinch-connector.
Another nice feature of the mixer is the stereo effect-send. Each channel can be configured to send it's signal to the effect-send output or not. This means that the effect-send output can also be used as a cleanfeed.
The large 2x40 segment VU-meter is switchable between master and PFL. All switches on the master-section have a LED-indicator. The 48V phantom power is available on each microphone channel, and can be switched on with an internal jumper.
Thanks to the internally modular setup, the extreme solid construction and by using only high-performance components we made the LPM7.3 an ideal partner for 'on the road'. Of coarse the LPM7.3 has the specific characteristics of a 'real DATEQ mixer', which means years of satisfactory mixing!
Because of the universal design the LPM7.3 has a wide area of applications. A perfect house-mix, AV-post production, disco or a multifunctional audio installation: The LPM7.3 can handle it...