Submitted by
Lead

on
22-01-2011
@ 15:48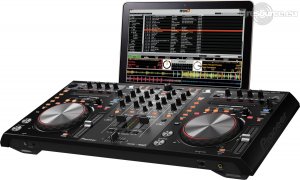 Brand :
&nbsp
Pioneer

Model :
&nbsp
DDJ-S1

Category :
&nbsp
MIDI Controllers

Available :
2011
-
today

Website :
&nbsp
www.pioneerprodj.eu
Only our members can see Gear details
Early 2011 Pioneer enters the Controllers market with two controllers, the Pioneer
DDJ-S1
for Traktor is one of them (read this topic about the Pioneer
DDJ-T1
controller for Native Instrument's Traktor). Both controllers are shipped including the software they are designed to intergrate.
What the T1 offers for the Traktor user is matched by what the DDJ S1 offers for users of Serato Itch. The DDJ-T1 intergrates lots of the features and controls in the same as Serato does. Supplied with the DDJ-S1 controller is Serato Itcha mixing software
The Pioneer DDJ-S1 is basically a controller for the software that send it's signals as MIDI to the computer by USB. The S1 has build in sound cards. There is a Master output on the back as balanced XLR and a Master out on RCA. The Line Input (Stereo RCA) has a trim control on the back and can be routed in Serato Itch to one of the channels. On the front side of the controller is a Headphone output for your headphones.
Specifications
Product Type
MIDI controller for Serato Itch Software
Jog Diameter
115 mm
Frequency Response
20Hz ~ 20kHz
Distortion
0.01 % (JEITA)
Inputs
2x Mic (Combo Jack & Jack), 1x Line (RCA)
Outputs
1x Master (XLR, balanced), 1x Master (RCA)
1x Headphones (1/4inch Jack)
Power Supply
Power 220-240v, rated output 5 V DC
Dimensions
680 x 317.7 x 95.2mm ( WxDxH )
Net Weight
5.0 kg
---