M ONE ACTIVE MK2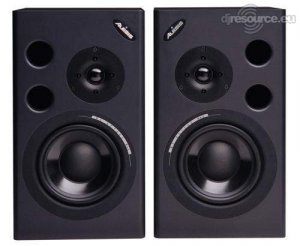 Brand :
&nbsp
Alesis

Model :
&nbsp
M ONE ACTIVE MK2

Category :
&nbsp
Speakers (active)

Website :
&nbsp
www.alesis.com
Only our members can see Gear details
Professional Accuracy, Clarity and Performance in an Affordable Powered Monitor.
By combining Alesis' expertise in reference monitor design with their proven track record in studio amplification, Alesis' new M1 Active™ Biamplified Reference Monitor offers the incredibly accurate response that perfectly translates to every playback system. Its internal active crossover and custom-designed dual amplifiers ensure an extremely consistent performance under a variety of different studio conditions and program material. The result is a broad, extremely flat frequency response, clear imaging with a wide sweet spot, high power handling and detailed high- and mid-frequency response that only a professional powered monitor can deliver.

Specifications

Low Frequency Driver: 6.5' non-woven carbon fiber with Santoprene surround and dual magnet shielded configuration

High Frequency Driver: 1' silk dome with medium viscosity ferrofluid coolant and dual magnet shielded configuration

Crossover: 1500Hz, 8th-order, 48dB/octave filters

Input Impedance: 20k_ balanced, 10k_ unbalanced

LF Filter: 2nd order, 'optimal Q' high pass, +1dB boost@50Hz

LF Amplifier: 75 watts, 8_ load

LF Amp Distortion: less than 0.03% thd @ 30w lf amp slew rate:19V/µsec

LF Amp S/N Ratio: >110dB, ref. 60W @ 8_, A-wtg., 1kHz

HF Amplifier: 25 watts, 4_ load

HF Amp Distortion: less than 0.06% thd @ rated power
LF amp slew rate less than 9V/µsec
HF Amp S/N Ratio: >112dB @ rated output
Frequency Range: 38 Hz - 23.5 kHz (-10dB point)
Connectors: Combination XLR-1/4' jack with input level control
Dimensions: (WxHxD) 8.5'x15'x9.75' (381mm x 216mm x 248mm)
Weight: 19.5 lbs. (8.9kg) each