Artist Name : Mario Galiana
Added by
Mariete
on
09-06-2012
@
01:13
Artist Name
Mario Galiana

Real Name
Mario Pascual Galiana
Born on
15-06-1982
(30 years old)
DJing since
Location
Avila (Spain)
Country
Spain

Votes received
No votes yet
Website
Playing Genres
Club
House
Techno
Minimal/Deep House


Future Gigs
No items yet...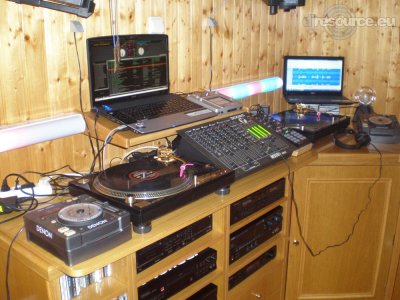 Mario Galiana (┴vila city,Spain) begins his dj career in 97 at the age of 15 years, with a mixer in his room, is in year 99, with almost the minimum age to get into clubs when he gets his first residency at the Pe˝a 18 club in pine forests city in the province of ┴vila. From then until now there have been many venues and events for which has passed both resident and guest dj, a the convent club, the legendary room where he resided Avila night his cabin from 2000 to 2004 where there is to know and begin to grow as a dj.
Hard Plate, Sheet, The Mansion, Garden, CPC or level 2 club are the first rooms you visit as guest DJ. It also participates in events such as tuning levels Avila City,Navaluenga
tunning show or be underlined his performance in 2004 at the legendary radio show from Spain 'therapy techno'. Their musical style has gone through the progressive at the time or the current settlement house hard house and techno in all its possible variants such as the electro and tech-house, but does not rule out any other style sessions in the electronic music.

Throughout his career he has been DJing together with national and international artists of various styles like Eric Morillo, Dj Chus, kika lewis, katty Droylas, Ivan Pica, Rafael Navarro Juan Iborra or as a house, Abel the Kid and Raul Ortiz, Angel Sanchez, Dj Marta, Angel Sanchez, Vicente One More Time, Dj Neil and Fernando Ballesteros as far as progressive and hard dance also relates Pepo, D'Wachman, Oskar Nacho Decoder chroma or if we refer to techno to highlight a few. In 2006 as a resident dj tab of the prestigious Aixa Galiana macrodiscoteca nightclub where she shares the bill with some of the most important DJs of the world, and live on Sunday night meeting with Oskar dreams Rodriguez also club Carpe Diem with major guest artists.

In 2007 his debut as a party promoter in the room Badulake music club in which also happens to be their resident dj organizing events with many dj's guest of styles as diverse as techno, house and hard dance giving a distinctive personality to each creating style parties, 'Poky party' for hard dance, 'electric techno' for techno and highlighting the sessions 'house experience' for your favorite style house where the great success obtained by the public Badulake approaching international DJs such as Oskar Rodriguez and national as ze alonso.

At this time (2007-2008) combined his work in music Badulake club room residency at Ibiza Club in electronic music festivals where he shared booth with the best DJ's in the national electronic scene, where he also believes in his role as sponsor the 'hardstyle connection' in 2008 focused on the emerging new hard style, relying extensively with Vicente one more time, the greatest exponent of the hard style in Spain, as well as possible collaborations with Aixa Galiana room as lightjokey and technical collaborations, a year who comes to work for three rooms at once, and several bowls as guest

More about this Artist : http://www.myspace.com/djmariogaliana
History Gigs
No items yet...